DiNozzo (Dino)
Ch Pantheon Special Agent of WestOak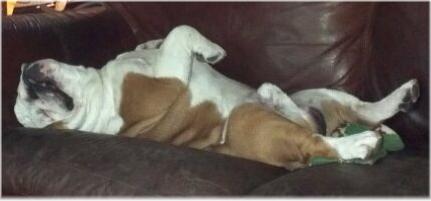 Dino started his show career, very unsure of being the only dog in the ring. So much so, in fact, that one judge kindly gave him a "push" on the rump to get him going. Our only goal that weekend was to get him to go around the ring. The next show weekend he went around the ring. It was uphill from there. He was a pure joy to show after that first month. All I can say is it was good people had seen me in the ring before so they didn't assume I knew nothing. Bulldogs are great for taking your pride down a peg or two. :-) We won't mention that first month anymore.
I didn't breed Dino. I bred his grandma, Sophie. Sophie only gave Dianne and Dana one puppy and I didn't have the heart to take that as my puppy back. So when Bug (that singleton) had puppies I took my puppy back, or rather, my grandpuppy back. That was Dino. Dino is such a sweet guy. He wasn't even 6 months old and crawling in the whelping box with new puppies
.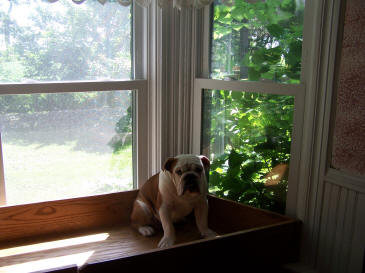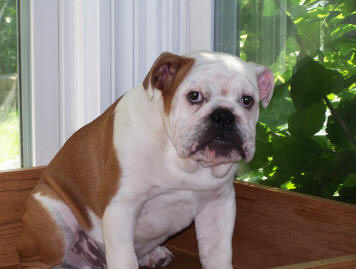 He is just the most mellow guy. Now that he knows how to show, even our friends that have handled him say he handles like a dream.
Dino enjoys getting out, whether it is showing or not. One of his more recent public appearances, for his adoring fans, was for a fundraiser in Janesville, MN. It was here a local group of business leaders vied for a chance to kiss Dino...or rather the ability to skip kissing him. :-)

Pastor Larry Griffin

Fire Chief Bucky Cummins

Dino's adoring fans

Getting slobbered up for the occassion

Kiss me or lose me forever!

K-I've done the deed now take me to my air conditioning
If you are interested in reading the news story about the event click here.
---
[ Home ] [ Available! ] [ The Family ] [ Photo Album ] [ History ] [ Care & Feeding ] [ Favorite Links ] [ Video ] [ Holiday Spirit ] [ Puppies ] [ Ch. "Allie" ] [ Ch. "Mr. Moose" ] [ Ch "Rubi" ] [ Ch. "Wadsworth" ] [ Pantheons Future ] [ Show Wins ] [ Ch "Drew" ] [ Show Bulldogs ] [ Pet Bulldogs ] [ In Memory ] [ Photo Shoots ] [ Zimny-Osterloh ] [ Wrinkle Time ] [ Waseca Weather ] [ Ch_Dino ]